Bait (1954)
Author: Raccoon
Date: 29-03-2019, 10:21
Viev: 1 673
---
Category:
Rare movies 1900-2000
Tags:
Drama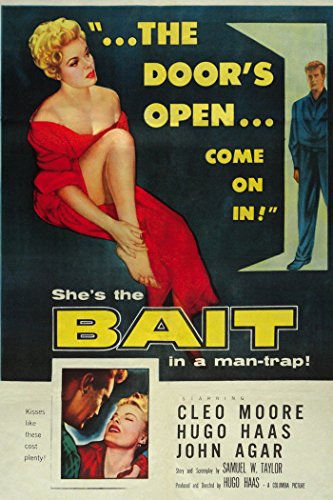 Bait (1954)
Another in the long line of the Trials-and-Tribulations (compounded by Misery and Irony) offerings from Hugo Haas. This time out his character, Marko (Hugo Haas, is searching for a lost gold mine with his young partner Ray Brighton ('John Agar' )qv)) and, despite the fact that Haas appears no more at home playing a prospector than Raymond Hatton would playing a Bulgarian diplomat, they find the mine. But Marko decides he doesn't want to share with his partner and figures out a devious and complicated scheme to get rid of him. (Shooting him in the head and burying him in the desert is far too simple a solution in a Haas film.) So, Marko ups and marries buxom young Peggy (Cleo Moore) as a marriage of convenience, even though past experience would indicate any involvement with a character played by Cleo Moore would not be described as anything close to convenience.
English | DVDRip | MKV | AVC, 1844 Kbps | 640×480 | 23.976 fps | 1.17 GB
Audio: AC-3, 256 Kbps | 2 channels | 48.0 KHz | Runtime: 01:19:34 minutes
Genre: Drama
Download Bait (1954):
Link does not work? Please restore the movie!