Decko koji obecava / The Promising Boy (1981)
Author: Raccoon
Date: 27-03-2019, 00:50
Viev: 513
---
Category:
Rare movies 1900-2000
Tags:
Comedy
Drama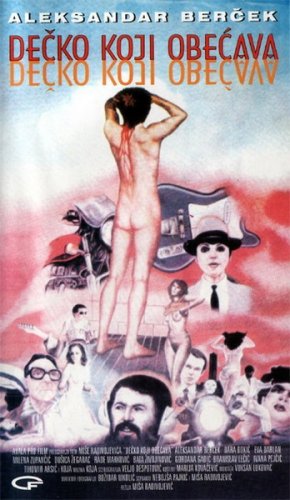 Decko koji obecava / The Promising Boy (1981)
Slobodan Milosevic is young promising guy. He is a solid student, obedient son and considerate boyfriend. But after his affair with one Swiss girl, all of that changes. When he told his girlfriend Masa about that affair she hits him in the head and he changes completely. He quarrels with his parents, runs away from home, has sex with different girls, even with Masa's mother, masturbates while driving the car, finds a way to express himself by playing rock'n'roll music and does similar anarchic stuffs. Masa thinks that another hit in the head would put the things back where they were, and when that happens and Slobodan starts acting normal again they plan a wedding. But in the middle of the wedding Slobodan hears that his friend from a band Pit had died and he, not knowing what else to do, goes bumping his head against the wall.
Serbian | DVDRip | AVI | XviD, 800 Kbps | 480×320 | 29.970 fps | 700 MB
Audio: AC-3, 224 Kbps | 2 channels | 48.0 KHz | Runtime: 01:34:27 minutes | Subtitles: English, French, Spanish (srt)
Genre: Comedy, Drama
Download Decko koji obecava / The Promising Boy (1981):
Link does not work? Please restore the movie!