Cattle King (1963)
Author: Raccoon
Date: 25-03-2019, 08:09
Viev: 183
---
Category:
Rare movies 1900-2000
Tags:
Western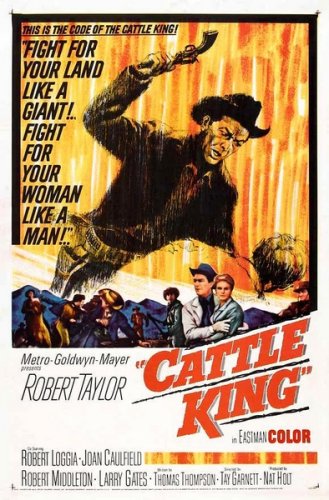 Cattle King (1963)
Trouble is growing like a prairie fire in 1883 Wyoming Territory. Cattle baron Clay Matthews is covertly masterminding stampedes of herds, hiring gunslingers for attacks on ranchers, cutting fences, grabbing lands – all part of a plan to establish a National Cattle Trail capable of handling a million-cattle drive from Texas to Canada. But Wyoming's rich grasslands could be trail's end for Clay: Sam Brassfield, who knows the era of the wide-open range is over, will fight to hold his spread.
English or Spanish (2 audio tracks) | DVDRip | AVI | XviD, 1676 Kbps | 720×406 | 25.000 fps | 1.14 GB
Audio: MP3, 128 Kbps | 2 channels | 48.0 KHz | Runtime: 01:24:05 minutes |
Genre: Western
Download Cattle King (1963):
Link does not work? Please restore the movie!