Bundle of Joy (1956)
Author: Raccoon
Date: 25-03-2019, 04:24
Viev: 338
---
Category:
Rare movies 1900-2000
Tags:
Comedy
Musical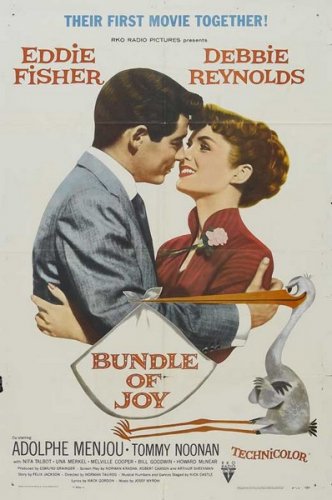 Bundle of Joy (1956)
Kitschy musical remake of "Bachelor Mother". Debbie Reynolds plays an over-eager clerk in a large department store and Eddie Fisher plays the boss' son. After getting fired from her job, she finds an adorable baby on the steps of the foundling home and the folks inside mistake her for the mother. Fisher, well-meaning, but obtuse, tries to help her out with the baby, and the buds of romance begin to appear. Meanwhile old Merlin, the owner of the store, thinks he just might be a grandfather…
English or Spanish (2 audio tracks) | TVRip | mkv | XviD, 1783 Kbps | 640×464 | 23.976 fps | 1.41 GB
Audio: MP3, 128 Kbps | 2 channels | 44.1 KHz | Runtime: 01:38:11 minutes | Subtitles: Spanish (srt)
Genre: Comedy, Musical
Download Bundle of Joy (1956):
Link does not work? Please restore the movie!