Al Capone (1959)
Author: Raccoon
Date: 19-03-2019, 18:15
Viev: 425
---
Category:
Rare movies 1900-2000
Tags:
Biography
Crime
Drama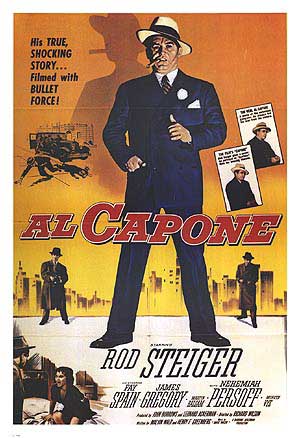 Al Capone (1959)
This factual biography of gang lord Al Capone follows his rise and fall in Chicago gangdom during the Prohibition era.
Rod Steiger is the screen's first "method mobster" in the title role of Al Capone. The film traces Big Al's progress from a torpedo in the hire of Chicago gangster Johnny Torrio to Capone's takeover of the Windy City's bootlegging operations, and his ultimate downfall at the hands of the IRS. Rod Steiger delivers every line with maniacal gusto, as though it will be his last; sometimes he sounds like Frank Gorshin doing a Rod Steiger impression, but for the most part it is a dynamite performance. Featured in the cast are Murvyn Vye as Bugs Moran, Joe De Santis as Big Jim Colosimo, Lewis Charles as Hymie Weiss, Robert Gist as O'Banion, and James Gregory and Martin Balsam as composite characters, respectively based on honest Chicago cop John Siege and duplicitous newspaper reporter Jake Lingle.
Director: Richard Wilson
Cast: Rod Steiger, Fay Spain, James Gregory, Martin Balsam, Nehemiah Persoff, Murvyn Vye, Robert Gist, Lewis Charles, Joe De Santis, Sandy Kenyon, Raymond Bailey, Al Ruscio, Louis Quinn, Ron Soble, Steve Gravers, Ben Ari, Fred Aldrich, Cindy Ames, James Bacon, Ralph Brooks, Paul Bryar, Charles D. Campbell, Cappy Carey, Larry Chance, Robert Christopher, John Close, Mason Curry, Peter Dane, Bru Danger, James Dime
DVDrip | 16:9 | 720×480 amorf | 3000 kbps | 2.65Gb mkv
Audio: English AC3 2.0 @ 640 Kbps
01:44:00 | USA | Biography, Crime, Drama
Download Al Capone (1959):
Link does not work? Please restore the movie!