Women's Prison Massacre (1983) Emanuelle In Prison / Blade Violent - I violenti
Author: Raccoon
Date: 21-03-2019, 08:07
Viev: 588
---
Category:
Adult night channel
Tags:
Action
Crime
Drama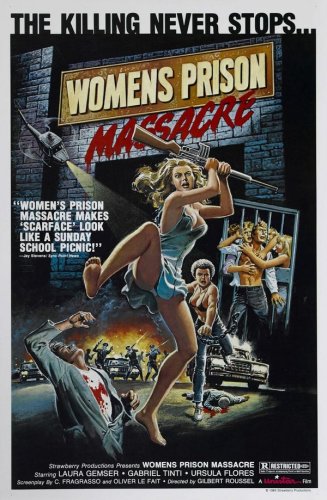 Women's Prison Massacre (1983) Emanuelle In Prison
Description: The journalist Emmanuel (starring famous Laura Gemser, who also played in Emanuelle Queen of the Desert and Malizia Erotica) chosen too close to the corrupt officials. Her substituted and embedded in the women's prison of strict regime. There captives constantly humiliated and tormented by the guards. The most unruly prisoners forced to sit naked for a long time in cold water. Emmanuel immediately comes into conflict with the tacit Albina Head of prisoners. Under pressure from the guards perverted girls have to find out who is stronger, fighting with knives. But the situation becomes unbearable at all, when four men awaiting execution escape and capture the women's corps camp. Blood begins to pour a river …
Year: 1983
Duration: 01:25:11
Directed by: Bruno Mattei
Actors: Laura Gemser, Lorraine DeSelle, Francoise Perrot, Gabrielle Tinti
Language: English
Country: Italy | France
Action, Crime, Drama
Also known as: Emanuelle fuga dall'inferno, Violent, I a.k.a. Emanuelle Escapes From Hell, Blade Violent, Assault In a Women's Prison, Laura II – Revolte im Frauenzuchthaus, Révolte au pénitencier de filles, Apodrasi apo tis gynaikeies fylakes
Download Women's Prison Massacre (1983) Emanuelle In Prison / Blade Violent - I violenti:
Link does not work? Please restore the movie!