Women in Cell Block 9 (1977)
Author: Raccoon
Date: 21-03-2019, 07:58
Viev: 978
---
Category:
Adult night channel
Tags:
Action
Crime
Drama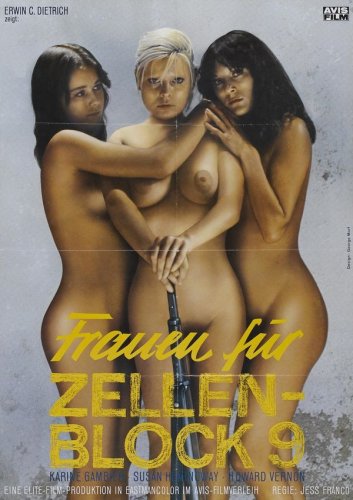 Women in Cell Block 9 (1977)
Description: The film Women in Cell Block 9 was made by famous Jess Franco – Barbed Wire Dolls and Fury in the Tropics
A group of girls led by Karin Lever falls to the women's concentration camp in one of the Latin American countries. The warden and Dr.a – both cruel maniacs – need the names and connected underground hiding places and they can't be stopped by nothing. Torture is becoming more violent, being replaced by non-human sexual violence. Deceiving the lustful guard, the girls in the buff run into the jungle to find there new torture and possibly death.
Women in Cellblock 9 follows a group of girls captured and sent to a tropical prison. In there, a female warden and the sadistic Dr. Costas (Vernon) torture them in various sexual ways…The film Frauen für Zellenblock 9 was rejected for a DVD certificate in February 2004 in the United Kingdom by the BBFC over sexual violence being eroticized, and indecent images of a 17 y old girl.
Year: 1977
Duration: 01:17:52
Directed by: Jess Franco
Actors: Susan Hemingway, Karine Gambier, Howard Vernon
Language: English
Country: Switzerland
Action, Crime, Drama
Also known as: Frauen für Zellenblock 9, Tropical Inferno, Cellule 9, Des femmes pour le bloc 9, Esclaves de l'amour, Flucht von der Todesinsel, Una secondina in un carcere femminile
Download Women in Cell Block 9 (1977):
Link does not work? Please restore the movie!