Chained Heat (1983)
Author: Raccoon
Date: 19-03-2019, 06:19
Viev: 574
---
Category:
Adult night channel
Tags:
Erotica
Crime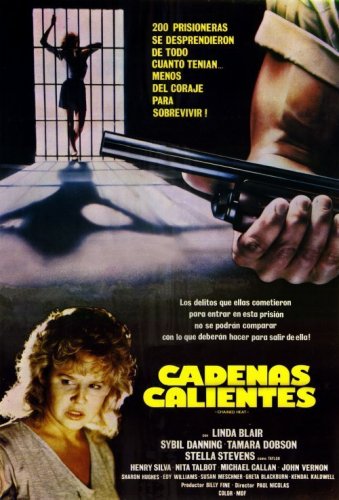 Chained Heat (1983)
Description: Linda Blair plays Carol, a young woman who must serve 18 months in prison after killing a man (by accident). The prison turns out to be brimming with decadence, corruption and sleaze, where the other female inmates are sadistic crack-selling lesbian rapists and the guards and warden are no better. Racial tensions are high as the inmates is divided into two factions, blacks and whites, who must either join together against the management or kill each other trying. A sleazy blend of sexploitation and blaxploitation make this movie a real winner.
Directed by: Paul Nicholas
Stars: Linda Blair, John Vernon and Sybil Danning
Language: English
Country: USA
Erotica, Crime
Also known as: Cadenas calientes, Correntes do Inferno, Das Frauenlager, Enchainées, Erotes kai pathi stis gynaikeies fylakes, Kahlittu raivo, Les anges du mal, Prisão de Mulheres, Rejas ardientes, Slodkie anioly
Review: Drive-in Classic!…. This has to be one of my all time favourite sexploitation movies. A stellar cast, over-the-top acting, lots of prison fights and violence, and just enough nudity to give it added appeal. The drive-in theatres here in Toronto held over this classic in '83 and brought it back as an added feature in '84. The sound fluctuates, the boom microphone shows up in parts, and the movie is dark, however, these technical flaws do not take away from the grittiness of this movie, they just add to it. If you are looking for a good "women in chains" movie, this is one of the best.
1.64gb | 99mins | 720×404 | mkv
Download Chained Heat (1983):
Link does not work? Please restore the movie!