---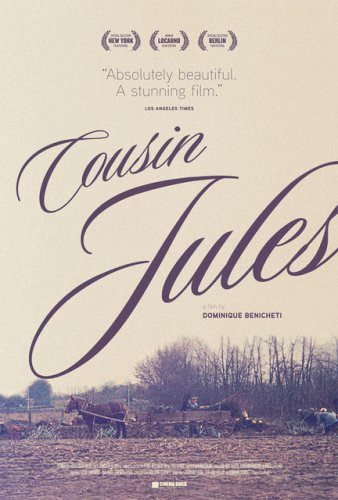 Le cousin Jules / Cousin Jules (1972)
A lost masterpiece of cinema, now beautifully restored and available for the first time in years, Cousin Jules was the result of five years (1968-1973) painstaking work by director Dominique Benicheti and cinematographer Pierre-William Glenn. Over that period, the team photographed and recorded the daily lives of Jules (Benicheti's distant cousin) and his wife, Felicie, French farmers living alone in the countryside.
The result is a ravishing and immersive work, in which we not only enter into the subjects' world but also into the very rhythms of their lives – a record of a time and a way of life that has long ago vanished
Upon its release at the 1973 Locarno Film Festival, Cousin Jules was heralded as a landmark in documentary filmmaking and consequently award a Special Jury Prize. It went on to screen at the New Directors / New Films festival in New York and the Los Angeles Film Festival. However, because the film was shot in CinemaScope with stereo sound – one of the very first documentaries to do so – it was unreleasable at the time. Most arthouse theaters were not yet equipped to play films in this format; and Benicheti refused for his film to be seen in any other way. Thus, it was never publicly shown again.
Benicheti began the restoration work on the film several years ago at Arane-Gulliver in Paris, the lab which he founded and worked at until the end of his life. Benicheti passed away in 2011. But work on his film continued, thanks to the director's closest friends and supporters. The new, restored version premiered at the 2012 New York Film Festival.
French | DVDRip | MKV | AVC, 1760 Kbps | 720×356 | 23.976 fps | 1.25 GB
Audio: AC-3, 192 Kbps | 2 channels | 48.0 KHz | Runtime: 01:31:20 minutes | Subtitle: English (embedded)
Genre: Documentary